Strategic, Integrated Communications
In today's competitive market, businesses and healthcare organizations need consistent messages that integrate their mission along with their wellness and fitness services. We can help you deliver a consistent quality oriented cross-marketing message through a variety of tactics, including ad campaigns, public relations, newsletters and more. We have in-depth knowledge of the marketing, programs and methods that are working today to help your business reach its full potential.
1. Market Analysis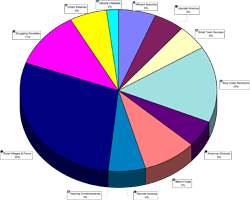 Build a better marketing plan.
We offer several methods for understanding your market for new ancillary service lines or for a new facility. To build a customer profile, we examine the site location and key zip codes within a 12-15 minute drive time to determine the percentage of key consumers for your products and services. Using Prizm household segments, we also can analyze current membership data and determine penetration in key segments.
2. Sales & Marketing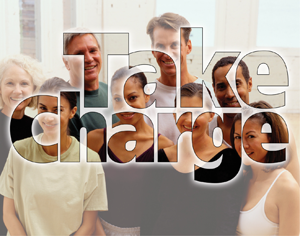 Chronic disease protocols and exercise program developed as a membership benefit, as well as physician-referral mechanism.
Developing the right message and positioning of your products and services is critical to your success. It usually involves an up-close examination of exactly what you're offering and how this answers your market's specific needs and wants. When you deliver your marketing message with the right message that's consistent and true, you build a long-term customer base and a quality reputation.
3. Advertising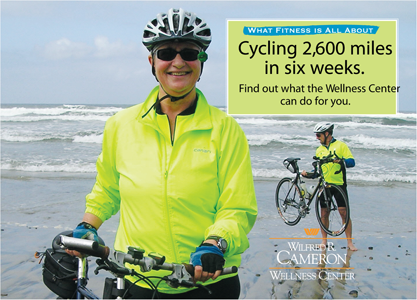 Member testimonials used in direct mail, print ads and in-center signage
Successful advertising delivers the message about you, your products and services in a way that your customer understands. Advertising serves up the features and benefits of what makes you different and unique in your market. Often we can discover or even develop a unique selling proposition (USP), which can position your wellness center or your offering in a very competitive light. We also can offer you a full range of advertising and sales materials – from brochures, e-mail blasts, special event promotions, post cards, print advertising and more.
4. Public Relations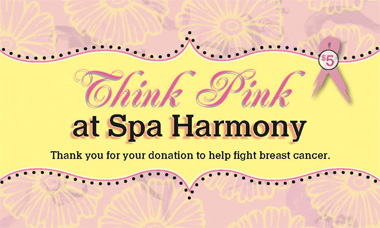 With the purchase of a coupon for spa services, clients also donated to the American Cancer Society during Breast Cancer Awareness month.
We think that good clients should always be good neighbors. This is why we advise and show our clients how to spot public relations opportunities and capitalize on them as showing them how to successfully tie into major health events. We also show clients how to create the kind of events that give them the "look of the leader" in their communities.
5. Website Development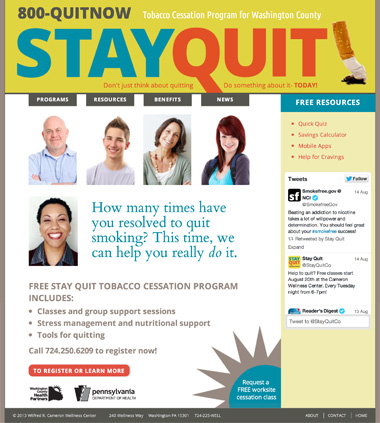 County-wide resource for tobacco cessation programs.
The internet is where you need to be! That's why it's critical to have an attractive, welcoming and accessible website that turns visitors on – not off. From basic website design to blogs, email blasts, extensive programming and more, we can make you stand out from the competition in this extremely competitive environment!
6. Surveys & Market Research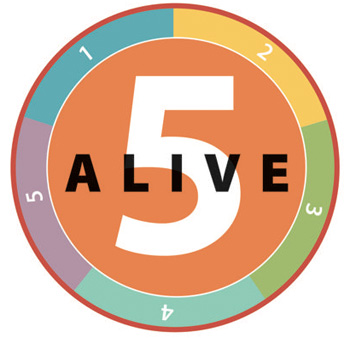 Member incentive program to increase retention.
Where you stand with your current customers and with potential customers is what drives surveys and market research. We provide our clients with a full rage of research tools including cluster analysis and real estate mapping, purchasing and satisfaction surveys. These invaluable measurement devices let you know what you're doing right – as well as where your business could use some improvement. We have found that often times, a small change or improvement in an offering can yield big dividends with your customers.
7. Events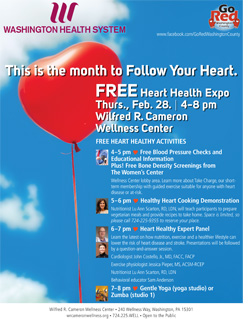 Community healthy heart expo to encourage trial at local wellness center and to promote key resources within the healthcare system.
In many ways your events define you in your market. This is why we help you define and plan your event then help you develop promotional items, and staff training through execution and post-event evaluation. We're with you every step of the way to ensure the success of your events.
8. Corporate Wellness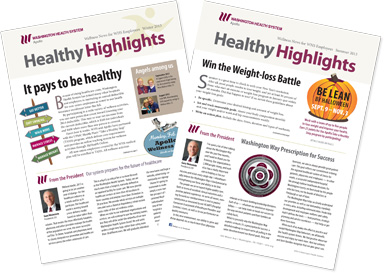 Internal newsletter to support the organization's mission and goals of improving employees' health and well-being
Effective wellness programs have many positive benefits for employees, and are an important company benefit. Developing a healthy workplace culture needs to be part of the strategic planning process and communicated consistently in order to retain and attract valued employees. We provide all aspects of planning, communicating and measuring corporate wellness programs for organizations of all sizes.
Honors

2014 – Gold, Flyer for Heart Expo
2014 – Bronze, Internal Newsletter for Health System Employees
2013 – Gold, Spa Harmony brochure advertising
2012 – Gold, Happy Kids, Smart Weight brochure
2011 – Think Pink internal advertising campaign
Website for wrcameronwellness.org
2010 Web Health Awards
2011 Communicator Awards