Leaders in the Health Care Industry for 25 Years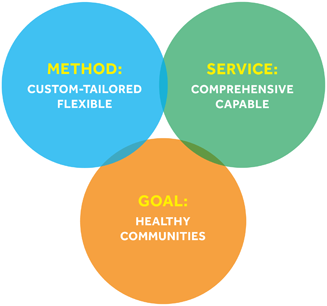 For more than 25 years, MedFit Partners has been serving the healthcare industry by providing expert guidance and project development in creating turnkey fitness and wellness facilities as well as ongoing facilities and operations management. We are the founders of the Medical Fitness Association and have made significant contributions to this rapidly growing sector of the healthcare industry.
We offer fitness and wellness experiences that lead to a better, more balanced life. This applies to all our products, services, and programs. We also provide internal and external communications for our corporate clients. Our staff members are wellness ambassadors in their communities.
MedFit Partners is a team of knowledgeable and experienced professionals and consultants specializing in fitness and wellness planning, consumer research and communications. Download our brochure.

Meet Our Management Team

John P. Greene
CEO
For more than 15 years, Mr. Greene has provided business planning and project management services to hospitals, corporations and commercial operators developing health and fitness centers. In 1989, he formed Hospital Fitness Corp, which focused on hospital-affiliated fitness centers. Projects developed to date exceed $150 million. In 1991, Mr. Greene founded the Medical Fitness Association, a national membership association for hospitals and medically affiliated fitness centers.
Prior experience includes management responsibilities at a national real estate market research firm (George Frerichs & Associates) and a national real estate planning and engineering company (Barton Aschman Associates). During this period he was actively involved in development projects valued at more than $250 million. Mr. Greene holds a bachelor's and a master's degree in urban planning from George Washington University.

Robin Schuette
Co-Owner
Robin oversees the operations as well as integrated communications for MedFit. From 1997 to 2000, she served as executive director of the Medical Fitness Association. In that capacity, she worked with John to develop the 400-member organization including its national conferences and trade shows, and member publications.
Previously, Robin worked as public relations director for Public Media Inc. and in advertising for Lee jeans. She has a master's degree in magazine publishing from Northwestern University and a bachelor's degree in journalism from the University of Missouri.

Agnes M. Dixon
Vice President, Operations
Since 1978, Agnes has been involved with medical-practice management and business development focusing on corporate systems and team development. For nearly 20 years, she has been involved with medical fitness and rehabilitation administration. A board member of various local, national and international healthcare organizations, she also has served on finance, marketing and operational subcommittees. Currently she is pursuing a master's degree in Management Information Services.

Susan Doctors
Management and Human Resources Consultant
Susan has been an integral part of the MedFit team since 2005 and has had a consulting practice for more than 15 years, providing interim Human Resources services, executive coaching and general management consulting to small businesses and non profits.
She is an executive with more than 35 years of experience in human resources and management. In both corporate positions and consulting assignments she has been responsible for overall human resources department management including: budgeting, strategic planning, assessment of staff, conducting employee and organizational assessments, developing employee handbooks and communications, responsible for employee relations and counseling, training, benefits and compensation.
A pioneer of onsite business day care, she received national recognition for and has been a frequent speaker on topics concerning progressive human resource management, innovative programs in training and development, employee wellness and flexible work alternatives.
Susan holds a bachelor's degree in Psychology and Sociology from Simmons College and an M.B.A. from the J.L. Kellogg Graduate School of Management, Northwestern University.
Her teaching experience includes De Paul University New School for Learning as Assistant Professor-Human Resources Planning and Lewis University Business School where she was Adjunct Professor-Human Resources Planning and Management.
She is active in her community and has served on numerous boards of directors.
Team Members
Kevin Conlon
Youth Sports
Kevin is an educator and trainer for student athletic programs, and is the co-developer of 360 Student-Athlete Development, a college preparatory system designed to enhance student-athletes' opportunity to participate in sports at the collegiate level. He also is the director of HealthPoint, a service of Georgetown Hospital system and has previously worked for Fitcorp, a national leader in the delivery of corporate fitness services. With a master's of education in human movement science from Boston University, Kevin brings a diverse background of fitness experience and education to medical fitness operations and management.

Paul Groen, M.D.
Advisor, Medical Services
Dr. Groen is a practicing orthopedic surgeon who created one of the first physician-owned medical fitness centers in the United States. Currently, Dr. Groen is president of DOCS Ltd., an international medical education, training and relief organization.

Pete Lamberti
Real Estate/Finance
Peter has more than 20 years of diversified commercial real estate experience in development, acquisitions and dispositions, and leasing. Currently he is senior vice president of development at AMB Development group, a leading innovator of full-service medical office and ambulatory care planning, design and development. Peter's focus during the past three years at AMB has been on project feasibility, project financing and leasing.
During the previous ten years he worked for a group of private investors with an opportunistic/value-added real estate investment focus. During this time Peter participated in over $200 million of acquisitions, dispositions, and development projects including medical office, office, multi-family and land.
Renée Ruffolo
Registered Interior Designer
Ms. Ruffolo's professional history encompasses over 25 years of combined education and field experience in contract interior design. She studied Fine Arts at the University of Illinois, Chicago and is a graduate of Harrington College of Design in Chicago. Renee is a registered Interior Designer in the State of Illinois.
In February 2001, Ms. Ruffolo opened an independent design office, offering services in retail, commercial, hospitality and residential interior design. Since then the company has been contracted for retail and contract office projects ranging in size from 1000 square feet to 20,000 square feet, two condominium building design/interior architecture projects, showroom design, guest suite design, senior living facility design (including public areas and dining room area), recreational facilities and many residential/home addition projects.
Renee has worked for several prominent interior design and architectural firms, including Schmidt, Garden and Erikson Architects and The DePalma Group (where she served as Senior Project Designer and Design Director from 1985 to 1991). Her work has won industry awards for design excellence throughout her career.
Leslie Stenger
Educator, Facilitator
Leslie has more than 25 years of experience in the health and fitness industry, including working as program director for two cardiac rehabilitation centers. She has experience with corporate fitness programs in the Pittsburgh area and has served as a consultant to the Ramble in Ashville, N.C. Leslie was a general partner of Fitness Essentials, a personalized training company serving the Pittsburgh area, for seven years.
Her vast experience with health and fitness programming within the private club sector includes serving as program director of the Health and Fitness Center of the Duquesne Club for 11 years. The Duquesne Club has the distinguishing honor of being named the No. 1 City Club in America in 1997 through 2004. Leslie has also served as a fitness consultant for Rolling Rock Club in the Ligonier Valley, Pennsylvania.
Currently an instructor at Indiana University of Pennsylvania in the Exercise Science program, Leslie is certified as an ACSM health and fitness specialist, spinning instructor, pilates mat instructor and CPR instructor. She is currently completing her doctoral degree in Exercise Science from the University of Pittsburgh and holds a bachelor's degree in Health and Physical Education and a master's degree in Exercise Science from Slippery Rock University.